כרטיסים ניתנים להחזר

Expert guides

Small groups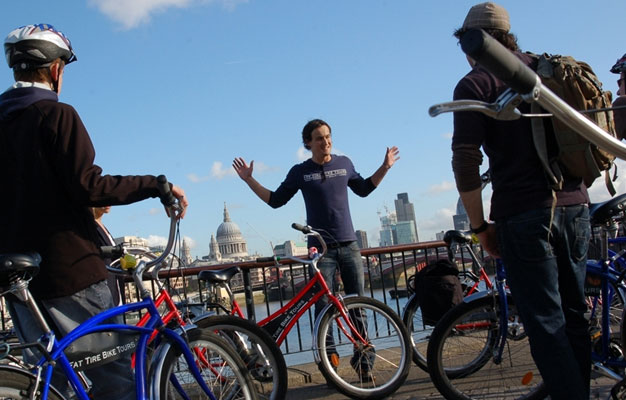 River Thames Night Bike Tour
Bike through the heart of London taking in many of the iconic sites as well as getting a feel for the mystery and romance of London's riverside by twilight.

Highlights:
- Enjoy a beautiful bike tour by the Thames
- Experience London in a new light
- Enjoy a drink at a local pub
- Get a great overview of London and its sights

Explore London's Riverside by Twilight
Watch the sun set over the majestic river on our new River Thames Evening Bike Tour.

Don't miss an opportunity to watch the city's lights glistening over London Bridge from your comfy seat of one of our cruiser bikes! While the bike tour itself is relaxed, you often find that it can be thirsty work so we make sure to pop into one of London's best local pubs along the way and get a drink.
Also please note that while the cycling is very leisurely we do ride on the road for parts of this tour and cycling competency and confidence is required.
How do I get my tickets?
Shortly after your booking is complete your e-ticket will be sent directly to your email, just print it out and bring it on your tour.
Where does the tour start?
The tour starts outside Southwark Underground Station (Jubilee Line) where you will see your guide with one of our beach cruiser style bikes and holding a sign.

Please be there 15 minutes before your tour starts.

Where does the tour end?
The tour finishes at the same place it starts.

How long does the tour last?
The tour lasts approx. 4 hours.

What happens if it rains?
We run tours rain or shine and have plenty of rain ponchos. We find tours in the rain to be a different kind of fun and an even more fun memory! If you have a reservation and the weather is really bad, you are welcome to reschedule the tour for any other day for up to year.

Is the tour difficult?
There is a lot more road riding on this tour so you must be confident on a bike. It is not strenuous but is a little bit longer and a touch more intimidating than our Royal London Tour.

Are helmets provided?
Yes. You are not compelled by law to wear helmets in the UK, but we have more than enough for everyone so the choice is entirely yours.

Do we take a break on tour?
Yes. We stop about half way into the tour for a drink at a 400-year-old pub (drink included).
Are children allowed on this tour?
Children are welcome on this tour but should be competent and confident on a bike.
Are there children's tickets?
Yes, children's tickets are available for children between age 4-18. Children under age 4 are free when accompanied by a paying adult.
שעות פתיחה
The tour departs Thursday to Saturday at 6 PM.
כרטיסים ניתנים להחזר כרטיסים ניתנים להחזר
Refundable up to 48 hours before performance date. A cancellation fee of up to 20% pr. ticket may apply
שעות פתיחה
The tour departs Thursday to Saturday at 6 PM.